TO START THE DAY PROPERLY
THE BREAKFAST 
We welcome you with a perfect breakfast to start the day with a lot of energy, in front of the ocean of course. Ideal to start the day on Oléron island! A wonderful moment with sweet and savory food to start the day well.
After a peaceful night rocked by the sound of the waves, start the day by having your breakfast with a view of the ocean. The breakfast is available from 8am to 10pm and delivered on a buffet.
The breakfast room will charm you with its seashore feel. You'll be seduced by the warm and sophisticated setting, half-timbered, with sparkling colors like the oyster huts of Oléron island.
Prices :
Breakfast at the buffet room with view on the ocean: 12€
(9€ for children under 10 years old)
Continental breakfast in your room: 14€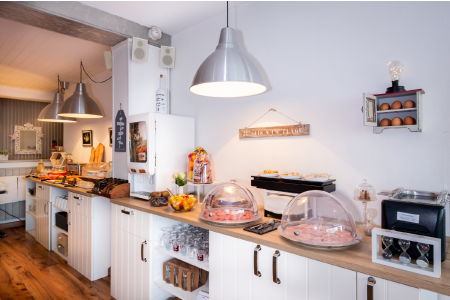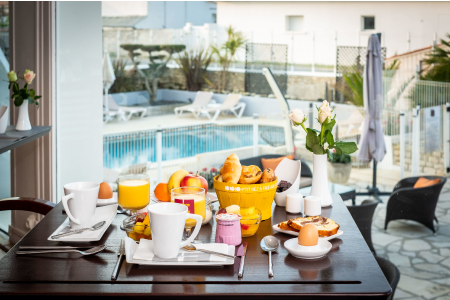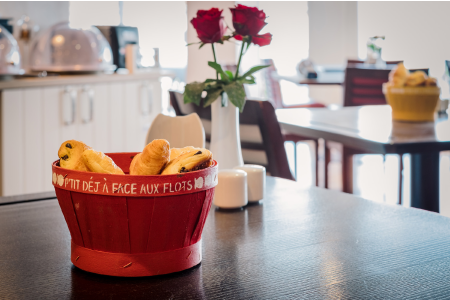 The buffet is made up of:
A KREA new generation hot drinks machine from Cafés Merling: Espresso, double espresso, american coffee, decaffeinated short and long, cappuccino, coffee with milk, milk, chocolate…

Tea from Jardin d'Asie (10 choices)

Damman infusions

Orange juice and apple juice from TROPICANA

Mineral water

Baguette, pastries, from our neighborhood's bakery

Sandwich bread, cereals, muesli, rusks, local galette

Biscuits or madeleines

Walnuts, hazelnuts
Seasonal fruits, kiwis

Home made fruits salad

Applesauce

Cottage cheese

Jam, honey, spreads

Soft and salted butter

You can make your hard eggs or hard-boiled eggs. The eggs are coming from the Oléron's Poultry house

Scrambled eggs

Meat: Premium ham and rosette

Cheese ( Emmenthal and local cheese)

Homemade caramel rice pudding

A delicious cake homemade which changes everyday!!